Let's Gogh! The Musée d'Orsay & Tezos Foundation Partnership, lead with digital souvenirs powered by KERU - What it Represents
A look at the recently launched partnership between the Tezos Foundation and Paris' Musée d'Orsay and what it means for the Tezos art ecosystem.
800 words, 4 minute read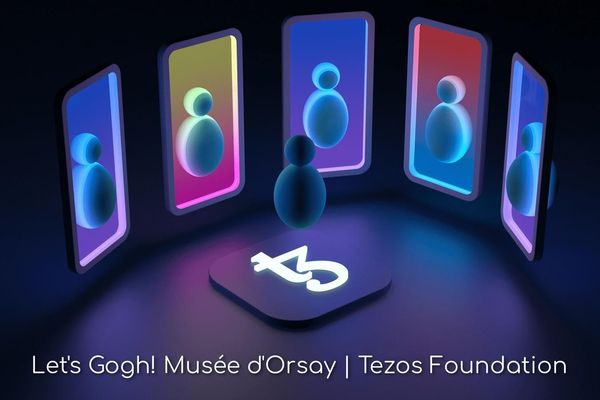 In an intriguing step forward for NFTs on Tezos, the Tezos Foundation has recently announced a groundbreaking artistic partnership with Paris' famed Musée d'Orsay. Launched on October 3rd of this year, the Tezos-Musée d'Orsay collaboration has begun with Tezos-powered NFTs playing a fascinating role in an important exhibition of a globally-renowned artist's works at one of Europe's most visited art museums.
The exhibition, titled "Van Gogh in Auvers-sur-Oise: The Final Months", will be the first exhibition ever dedicated to the works produced by Vincent Van Gogh during the last 2 months of his life — a period during which the iconic artist produced 74 paintings and 33 drawings.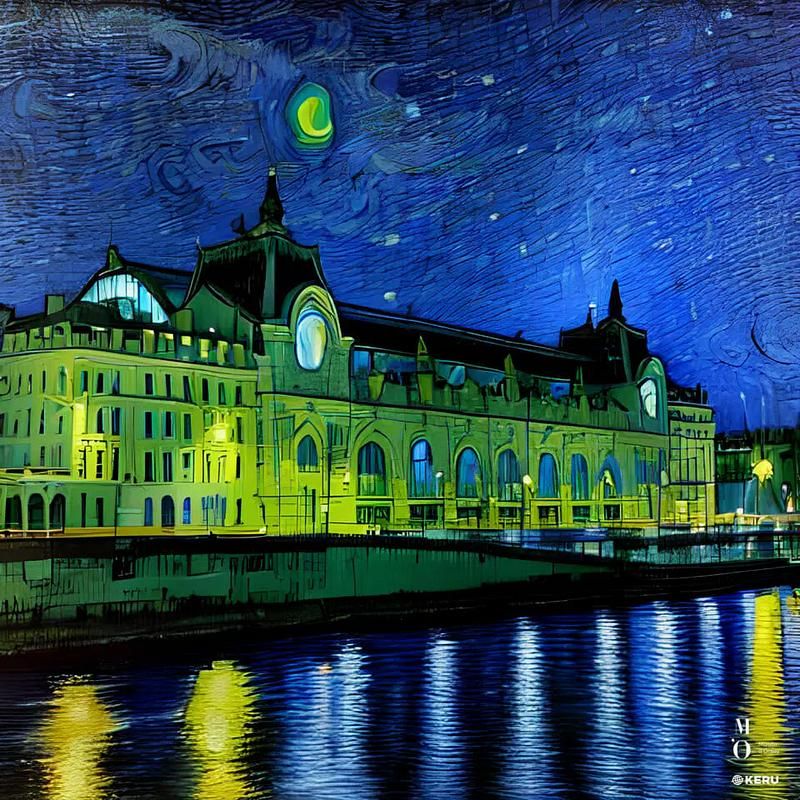 The year-long partnership between Musée d'Orsay and the Tezos Foundation represents a significant step in the quest to bridge the gap between the world of traditional art and the digital art/NFT space. As the global art establishment begins to dip its toes into Web 3.0 and explore the possibilities of the tools like NFTs within it, such collaborations will play an important role in demonstrating what the technologies, ecosystems, and communities behind them really have to offer.
Visitors to the "Van Gogh in Auvers-sur-Oise: The Final Months" exhibition will have the opportunity to claim 2 distinct digital souvenirs to commemorate their visit. Each souvenir will be limited to a run of 2300 editions, claimable via QR codes within the Musée d'Orsay during the exhibition. Powered by KERU, a company specializing in digital souvenirs, these offerings present a novel approach to collecting artistic keepsakes and commemorating one's visit to one of Europe's greatest art museums. Keru's digital-first approach to commemorating real-world experiences via digital souvenirs has already popped up at several historical sites in France and Belgium, and this partnership with Musée d'Orsay is a significant one for its quickly-growing brand as well.
Furthermore, owners of Musée d'Orsay digital souvenirs will benefit from in-store discounts, as well as a future visit at a reduced price (Musée d'Orsay in a starry night souvenir only). Holding a Musée d'Orsay digital souvenir also gives you the chance to gain access to unique experiences such as an invitation to a preview, a dinner in one of the museum's restaurants, and even the chance to win lifetime access to the museum for two people.
Hélène Quintin, CEO of KERU.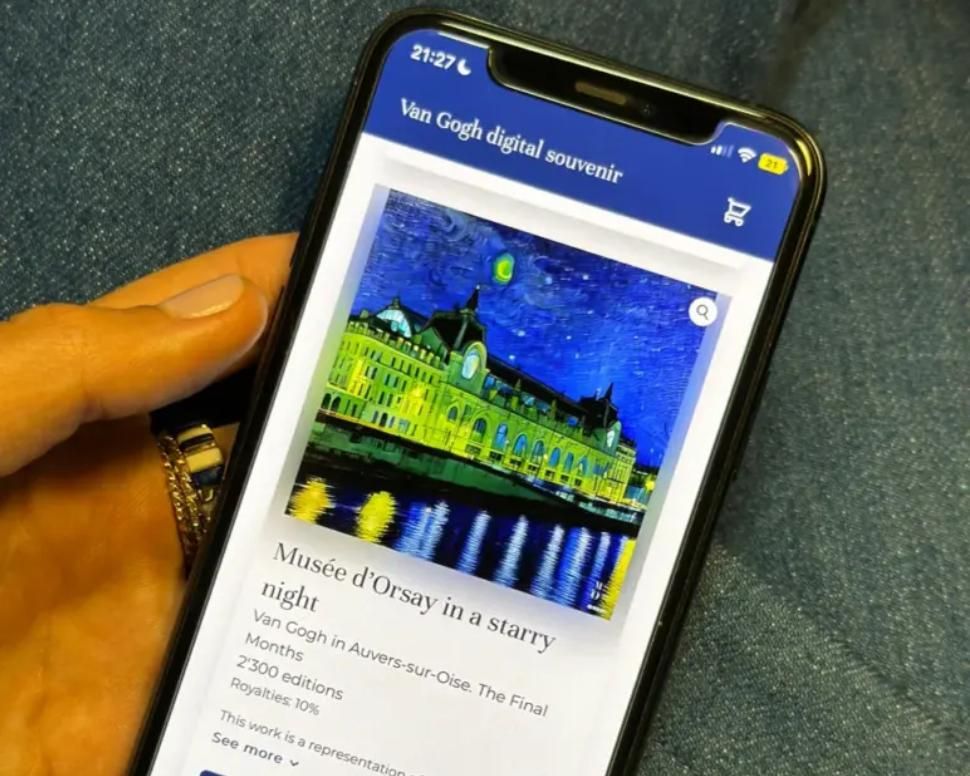 As a key player in the forging of this partnership, Trilitech's Head of Art Valerie Whitacre expressed great appreciation for the Musée d'Orsay team and their forward-thinking approach in bringing this exciting project to life…
Valérie Whitacre, Head of Art at TriliTech
For their part, the Musée d'Orsay team has been positive about this joint endeavour with KERU and the Tezos Foundation, with Museum President Christophe Leribault highlighting the Tezos' commitment to environmental responsibility as an important reason for the team's decision to realize their vision here in the Tezos ecosystem…
Christophe Leribault, president of the Musées d'Orsay and de l'Orangerie
The team at KERU, meanwhile, views this fledgling partnership as yet another key use-case for its company mission, as well as a simple entry point to bring new users into the world of NFTs, digital souvenirs, and the Tezos ecosystem…
"KERU has developed advanced technology for a fast, intuitive user experience. Purchasing a digital souvenir takes just 20 seconds after scanning the QR code in the Musée d'Orsay store and requires no technical knowledge. We're committed to providing a very intuitive and fast experience while relying on the security and transparency that blockchain brings. From the creation of your blockchain wallet to the receipt of the souvenir after a secure payment (in FIAT), all you need is an email address and a bank card," explains Sébastien Lacan, CTO of KERU.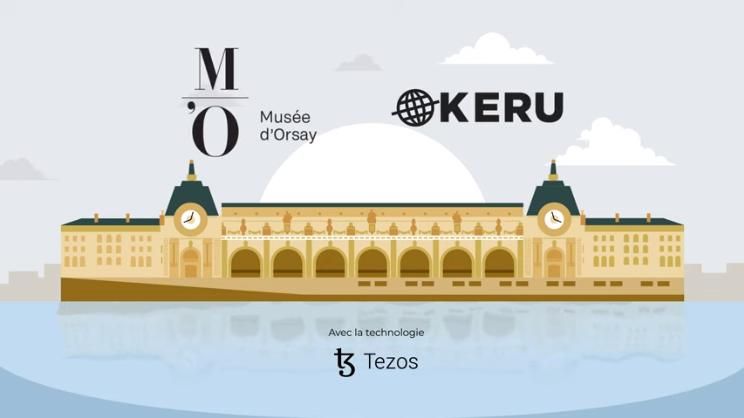 It's no secret that the Tezos ecosystem has become a global blockchain leader in the realm of digital art and NFTs. It features the liveliest and most robust artistic community in the space, a bevy of blockchain's finest NFT marketplaces, and a famously welcoming and inclusive atmosphere for artists and collectors from all corners of the globe.
And, with storied artistic institutions like Musée d'Orsay now taking notice and getting involved, early stage partnerships like this one show tremendous promise for the Tezos art ecosystem and those building within it moving forward.
We encourage everyone who might be in the area to go check out this exhibition in person, experience this exciting partnership in action, and claim their limited edition Van Gogh digital souvenirs before they're all snapped up. But hurry, the exhibition only runs until February 4th, 2024!