Music NFT Platforms on Tezos - an Overview
Music NFTs are starting to find a home on Tezos - we take a look at some of the major platforms.
1,300 words, 7 minute read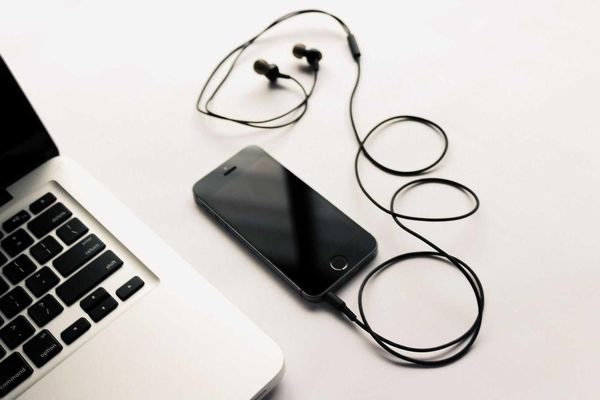 Photo by rupixen.com / Unsplash
Since early 2021, NFTs have really taken off on Tezos, with platforms like Hic Et Nunc (now defunct, but resurrected as teia.art) creating an explosion of interest among creators and collectors alike. Almost overnight, a wave of artists rushed to mint their latest work and collections on Tezos, due partly to the low transaction costs (so-called 'gas' fees) on Tezos compared to Ethereum.
It wasn't just the low gas fees that proved attractive, however - the Tezos community offered a warm welcome to newcomers, forging what is still to this day a very inviting and supportive environment for artists of all stripes. Like many other NFT markets, the surge of activity in the Tezos NFT community up to now has been largely dominated by visual art. But a new movement is starting to emerge around music NFTs.
This article highlights four main music NFT platforms on Tezos: Radion.fm, henradio.xyz, DNS.xyz, and . Music is supported on other NFT platforms such as objkt.com and versum.xyz, but we've excluded them from this article since their focus is still primarily on visual art.
---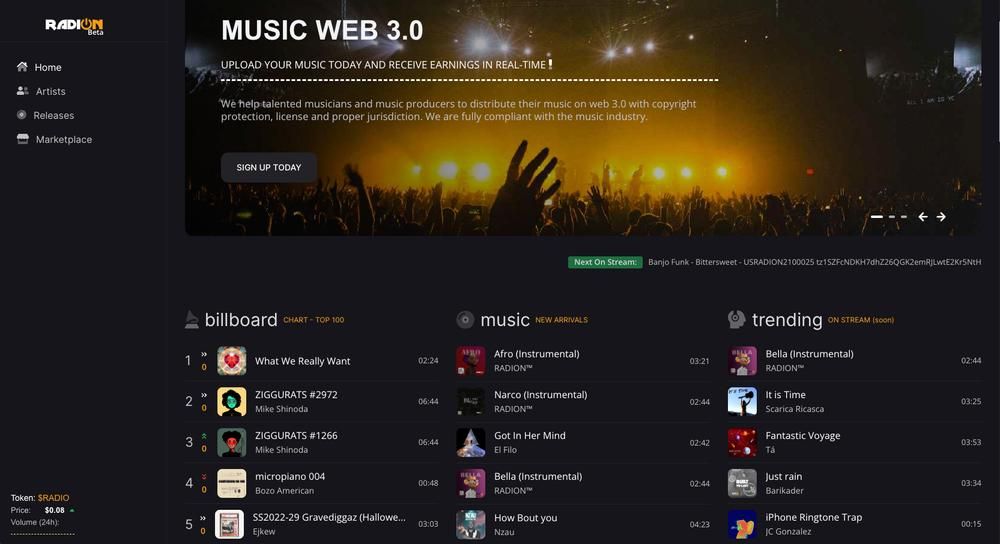 Radion.fm was one of the first platforms on Tezos to focus exclusively on music, with a focus on copyright protection. Radion is an interesting solution to music monetization in that it embeds a public hash key into the audio files, which enables direct payments to be sent to the artist whenever a song is downloaded or purchased. The platform's interface will be familiar to anyone who has ever used a Web 2.0 streaming platform such as Spotify and Apple music, featuring a 'billboard' chart, trending artists, a radio stream, and more. It is also very good at tracking artist data in their dashboard.
We help talented musicians and music producers to distribute their music on web 3.0 with copyright protection, license and proper jurisdiction. We are fully compliant with the music industry. - Radion.fm
Though Radion is a Web3-compatible platform, upon syncing your crypto wallet to the website does require you sign up with an account that includes personal information as well as your official artist information. This is to ensure that everything can easily remain compliant with music industry standards.
Artists can create an NFT directly on the Radion platform with the very user friendly interface. The minting process allows artists to select from a wide variety of standard copyright licenses, set their secondary sale royalties (up to 20%), and, after minting, a network review is conducted to determine if a song can be placed in the Radion live stream. RADIO is the platform's native utility token, used for various things, such as onboarding new users and rewarding holders.
---
Henradio.xyz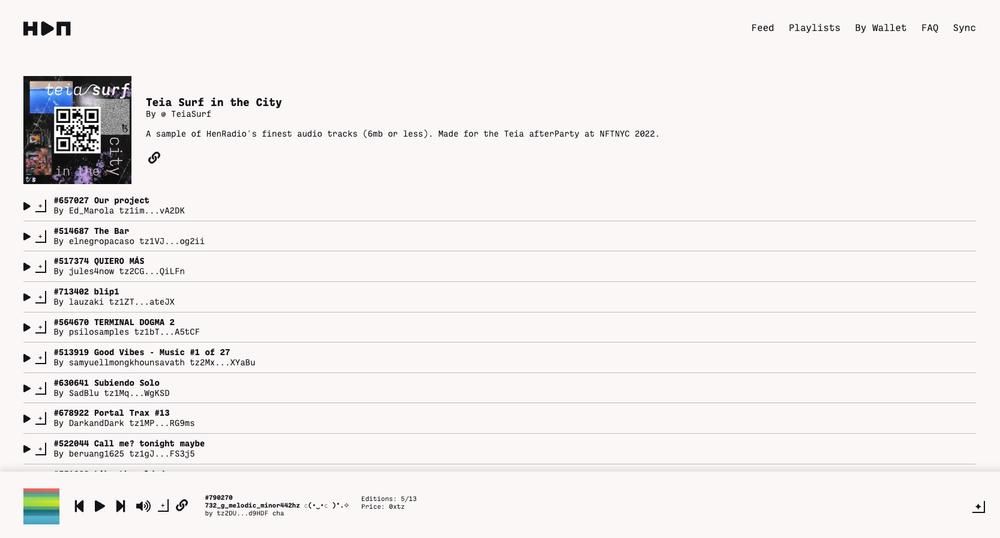 Henradio.xyz was born out of the early Tezos NFT platform hicetnunc.xyz (hence the name 'HEN', stemming from the Hic Et Nunc abbreviation), and it now mints on the teia.art minting contract, meaning that any audio file minted there will show up on its UI. It has a simple UI layout and straightforward UX, allowing users to mint their audio NFTs, and placing everything in a continuous vertical feed showing the latest mints in real time.
henradio.xyz makes it easier to discover, listen to and reward NFT music artists, in the HEN spirit of inclusivity, diversity, multiculturalism. -Henradio Twitter bio
Henradio has a stream function which plays the songs on the feed in order, and it lets artists build playlists. Aside from cover images, the henradio.xyz platform is designed exclusively for music NFTs. The minting process is very easy on henradio, as it allows artists to upload a specific cover image with their audio files, and set their secondary sales royalties to any percentage between 10-25%.
The platform allows for the creation of playlists so listeners can keep track of their favorite songs. There is no native utility token for henradio.
---
DNS.xyz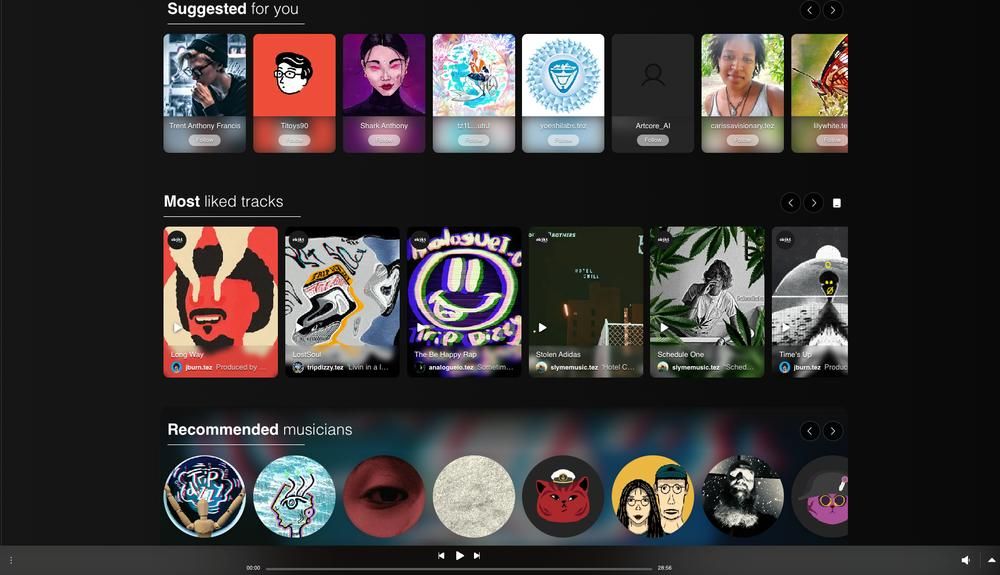 DNS.xyz started out as a profile platform, but has since expanded to focus on building an infrastructure around Web3 music (although not exclusively - the platform also supports other kinds of NFTs, like visual art tokens). DNS features cross-chain support, displaying NFTs from Tezos, Ethereum, and Polygon. The platform indexes and displays NFTs from a variety of popular minting contracts. An A.I. feature will detect any accounts you have associated with a synced wallet address and it will construct your profile home page on this basis, however profile customization is also possible.
Decentralized NFT Streaming - the best way to play music & show art on Tezos, Ethereum, and Polygon - DNS Twitter bio
The DNS team is very good about working in the open, offering users the chance to talk with the team and provide feedback almost on a daily basis, and allowing the community to curate their homepage of rotating featured artists. The UI/UX in its current form is akin to a mix between a social media platform and the Soundcloud. At the time of writing, a new website design is pending.
The platform currently offers its own hyperminter, and one popular feature that DNS offers is a batch transaction cart, making the collection of multiple NFTs at once simple and easy. At the time of writing, the pending updates to the website will bring more features to the minter, including album minting capabilities and more. Other improvements are planned to follow as well.
---
OneOf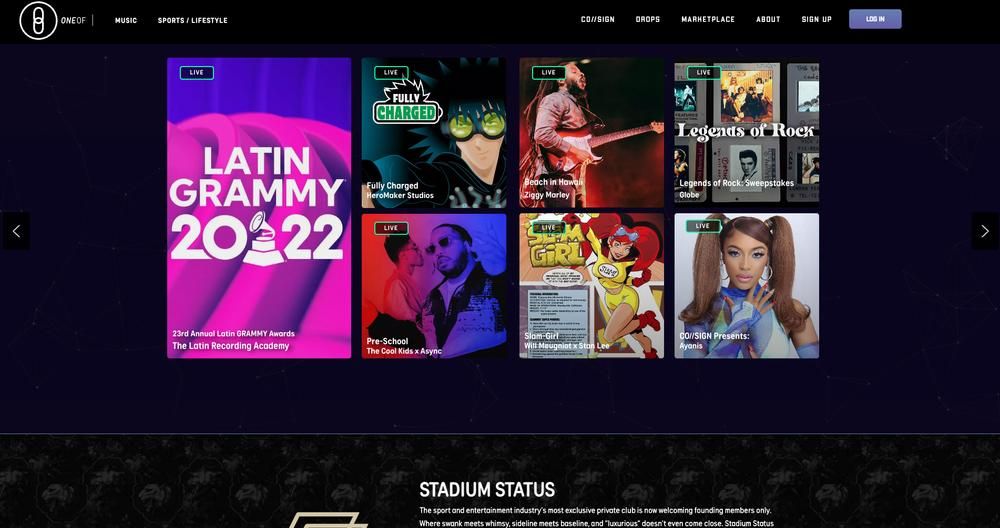 Boosted by early backing from music industry legend Quincy Jones, is another NFT platform that utilizes the Tezos blockchain, and has become a hub for mainstream partnerships. OneOf has helped launch and showcase NFT drops for many mainstream artists such as Doja Cat, Whitney Houston, The Notorious B.I.G., Ziggy Marley, and others. OneOf is also the official NFT partner of the Grammy's.
Although OneOf focuses heavily on working with mainstream musical artists, helping to bring NFTs to the general public, the platform itself differs from the others mentioned in this article in the sense that OneOf does not currently strive to be a Web3 music streaming platform or an open marketplace for independent artists to mint their work. It might be easier to think of OneOf as a stepping stone from the mainstream music industry to the emerging world of blockchain-based Web3 platforms and NFTs.
OneOf does not sync with your Web3 crypto wallet, and still requires traditional Web 2.o style login (e.g., via an email account). This means that you do not actually possess the NFTs you collect on the platform in the same way you do when you hold assets in a crypto wallet you hold the private keys for. However, exporting and sending NFTs collected on the OneOf platform is possible through their service.
---
Honorable Mention - Joko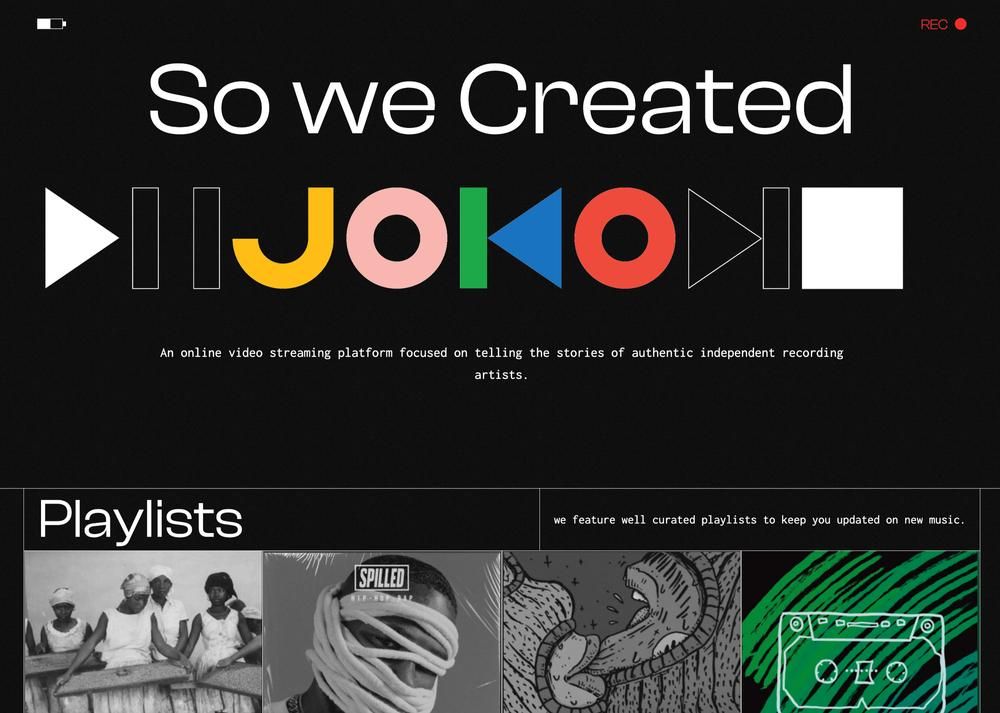 Billed as 'an online video streaming platform focused on telling the stories of authentic independent recording artists', Joko aspires to create a more equitable streaming model for musicians, and provide fans with a richer experience via original documentary films, featuring conversations with their favorite musicians, and performances.
PlayJoko.com is live now in a basic form, with a beta launch expected in Q1 of next year, and pre-launch activations planned in Lagos Nigeria and Seattle Washington (USA). For more details about Joko, we also recommend checking out Stu Elmes' recent video interview with co-founder Ade Adeyemo for TezTalks Live.
---
Related Links: #