Ziggy Marley Drops NFT for Charity Fundraiser on Tezos with OneOf
The eight-time Grammy winner recently partnered with the NFT platform OneOf for a charity fundraiser NFT drop.
250 words, 2 minute read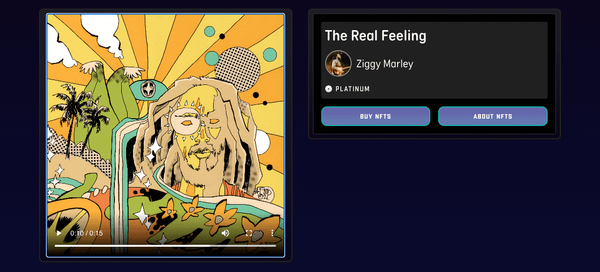 On October 17th, Ziggy Marley - the eldest son of Rita Marley and reggae legend Bob Marley - conducted an NFT drop in partnership with OneOf, the Tezos supported platform that serves as the official NFT partner of the Grammy's.
OneOf is thrilled to partner with the legendary Ziggy Marley—eight-time GRAMMY® winner, EMMY® winner, musician, producer, activist and humanitarian. - OneOf.com
In addition to being a world-class musician who has been the recipient of eight Grammy's and an Emmy, Ziggy Marley is also an active philanthropist and humanitarian. Marley is the founder of the U.R.G.E. foundation (which stands for Unlimited Resources Giving Enlightenment) - a foundation that supports the education and health of children in Jamaica - and all proceeds from the NFT sales have gone to this cause.
The release features an unreleased demo version of Ziggy Marley's single Beach in Hawaii, iconic artwork by American artist, Jim Mahfood, and it also included a limited distribution of physical goods, including a signed guitar, lifetime access to Marley's headlining shows, and the opportunity for a collaborative merchandise release, where the winner receives 50% of the royalties generated from the merchandise sales.
The NFT drop was for 250 editions, and at the time of writing this article, some of the NFTs are currently available on the secondary market. Be sure to check out the release at OneOf.com.
---
Related links: #